Polymer Clay Cat Pin or Magnet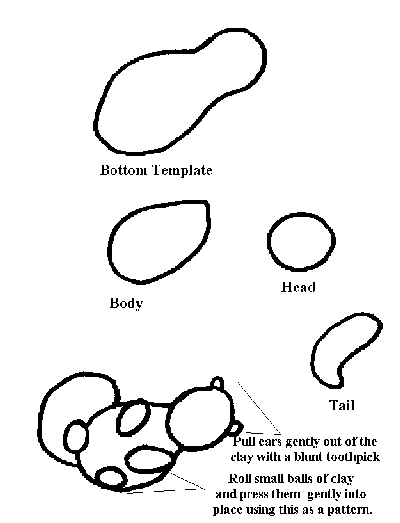 This should be an easy project if you print out all the instructions and have the proper materials at hand.



LIST OF MATERIALS

Square of white polymer clay (I suggest Promat or Premo)
Acrylic paints in the colors you wish.
Paint brush
Toothpicks
you may use colored clays if you do not wish to paint the piece
Bundle of flower stamens (Michaels carries them) for whiskers
Small bag of Indian Beads for eyes and nose or a permanent black
marker if you wish to paint them on.
Water soluble polyurethane for an overcoat (optional)
1" bar pin or magnetic strip (your choice)



Using the printed sheet for a pattern, cut out pieces. Roll out your clay or press it down with a book to about 1/4 inch in thickness.

Place the Bottom Template on the clay and cut the clay around it with a heavy hatpin or a toothpick. You will "build" your cat on top of this bottom template.

Make a ball of clay for the body...it should be a little larger than the pattern and shape it into a pear shape gently press it on template as shown.

Make another ball of clay for the head and gently press that into place on the template.

Do the paws and tail in the same manner.

Gently pull out the ears with a toothpick.

Using the pictures above, make "fur lines" in the clay with your toothpick. Also, paw lines as well.

If you chose to use the glass indian beads, gently press the color eyes you wish into place and a nice black bead for the nose.

Cut the stamens into 1/3" pieces and stick them into the cat face for whiskers.

Place the piece on a foil covered cookie sheet and place a sheet of foil loosely over the top. Bake the piece for 40 minutes at 245 degrees.

After the piece has cooled, glue on your bar pin or magnetic strip. Paint as desired and use your imagination to decorate....perhaps glue on a ribbon for a collar or, some glitter or even a bell.
Finish with the clear water soluble polyurethan paint if you wish a gloss to the piece.

Most of all, have FUN...and let me know how your little kitty turned out.

Back to Project Page Index
Back to Patricia's Angel Babies