Tom Clark Gnomes
Patricia's private collection of Tom Clark Gnomes are up for sale. Most of these gnomes are retired and many have been personally signed by Dr. Tom Clark. All of these figurines have a certificate of authenticity and all are in perfect condition. If you are interested in filling in your collection of Tom Clark Gnomes, this is a good place to start.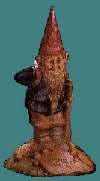 Arthur - a retired piece - personally signed by Tom Clark - $100
Did you know Arthur has a face in his beard?




Anaheim - a retired piece - $75
Candy - a retired piece - personally signed by Tom Clark - $100
Lance - a retired piece - $75
Locke - a retired piece - $75
Baker - a retired piece - $75
Smokey - a retired piece - $75
Padre & Madre plus a wooden bench for them to sit on. Both are retired - $120 for the pair.

Mendy - a retired piece - $30

Thimblena - a retired piece - $30 - SOLD
Darn - a retired piece - $30

A retired family - $300 for all 4 pieces: Pokey, Jennie, Lilibet, Eddie (he is signed by Tom Clark)

The largest piece in the collection: Dove School Bus - retired piece - personally signed by Tom Clark on Signature Day, November 17, 1991, Ontario, CA (Signature Day sticker on the bottom) - price $200

Friday - soon to retire - $35


Please e-mail Patricia if you are interested in any of these pieces: